KINDERGARTEN SCREENING & ENROLLMENT
School Year 2023-2024 Screening and Registration Date:
Friday, February 17th, 2023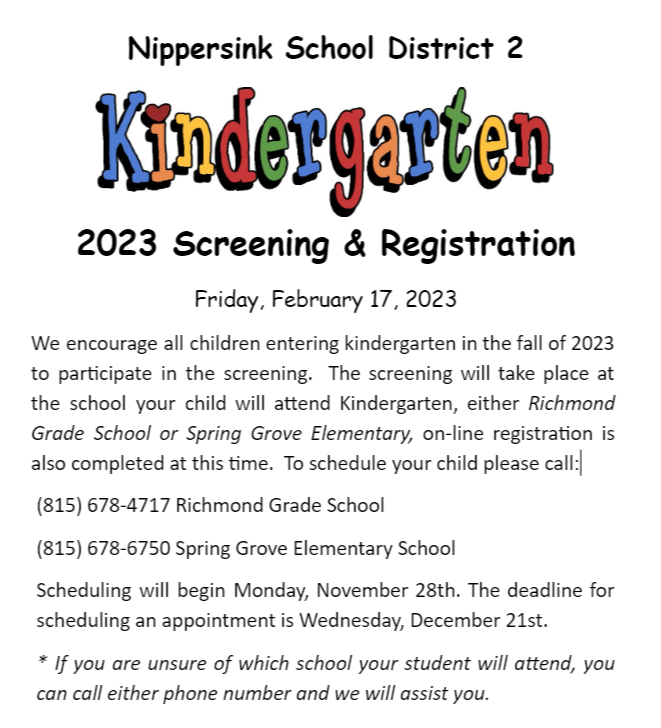 Illinois State Law requires the following health exams to be completed prior to entry into Kindergarten. These documents may be uploaded during the registration process or turned into your child's school office. Failure to provide these will result in the student's exclusion from school.
List of additional forms that may apply (not required):
REGISTRATION & SCREENING REQUIREMENTS
An Official Birth Certificate: This can be uploaded at registration or the school office that your child will attend can make a copy for your child's school file.

Complete Online Enrollment: If you are in need of computer access, please contact Kristy Dodge ~ 815.678.6866.
TO COMPLETE ONLINE REGISTRATION:
Please choose from the following options to register your Kindergarten student:
A. If your family is new to District 2 and has NEVER had a student enrolled at a District 2 school, please follow this link: New Family Kindergarten Enrollment
Parents Reference Guide to the New Family Online Enrollment Portal
B. If your family has a student(s) currently enrolled now or in the past at District 2, please log in to your Skyward Family Access and enroll your Kindergarten student by clicking on the tab on the left labeled Online Enrollment: Current Family Kindergarten Enrollment
If you are experiencing online registration difficulties please contact the building main office of the school your child will be attending for assistance. For all other questions regarding Kindergarten Registration, please contact the District Office: 815.678.6866